Ode to Adrian Piper
2006, Camp Trans, Michigan (in collaboration with Rae Spoon)
animations
This is the first part of a four part experimental animated documentary I am working on about criminalization in Canada. Having worked for the past five years on art projects with marginalized and criminalized individuals, I am interested in sharing some of their stories and insights. Many women find creative ways to survive, their stories illuminate the strength and courage these women show as well as the oppressive conditions that define them. 

"Women are the fastest growing prison population world wide and this is not accidental. In Canada, we recognize that the now globalized destruction of social safety nets — from social and health services to economic and education standards, and availability is resulting in the increased abandonment of the most vulnerable, marginalized and oppressed." Kim Pate

The law is intended to protect society from harm and create social order. Used as a method for controlling behavior and maintaining social norms, it is often produced so as to appease the masses with concepts of safety and security. In most western countries prison populations, as compared to outside populations, reflect disproportionate representation of racially discriminated groups. This extension of systematic racism is entrenched in the legal systems and purpose of prisons.
http://www.youtube.com/watch?v=WYtDXpn49SU
Love is a Hunter (2010)  This animation uses watercolor paintings of child-morphed creatures, poppies and dismembered legs, based on collaged photos from my animation 'Nothing ever happened', to produce a commentary on loss. Set to the song 'Love is a Hunter' by Rae Spoon reminds us that love can be transformative, but sometimes the intensity of this transformation can be threatening. The surreal imagery reflects a childhood where love is very much defined by one's ability to hide from violence and pain.
http://www.youtube.com/watch?v=AuNvuGazTYk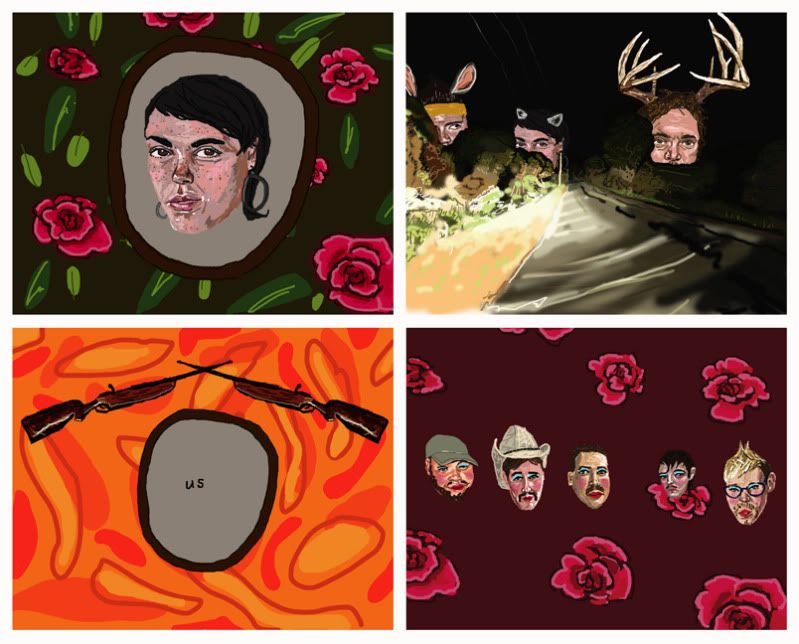 Joan (2010) is a music video that confronts the viewer with the violence trans people face in their daily lives. Featuring portraits of gender queers from around the world, as well as a few famous faces from Canada, the video offers recognition for the difficulty in surviving oppressive conditions. The love song, an anthem against transphobia, reminds us that through supporting one another we are not alone.  Song by Rae Spoon.
http://www.youtube.com/watch?v=VAVoCZ5uKLw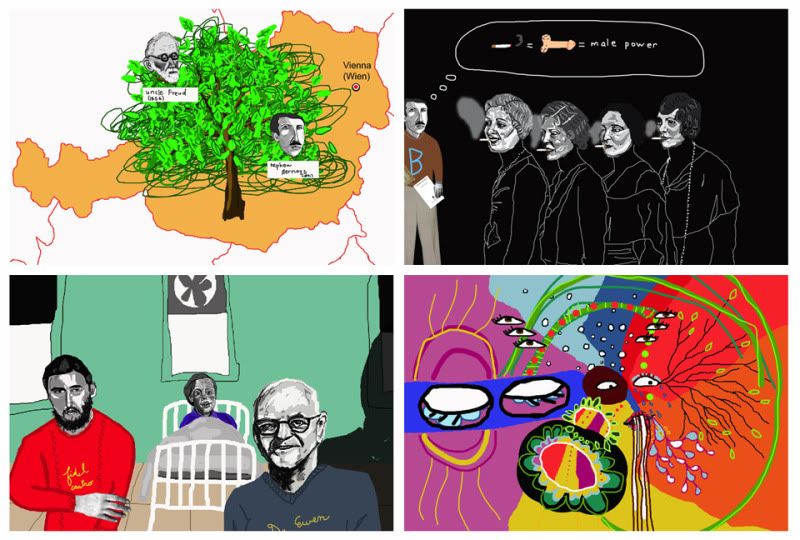 Psychic Capital (2009) combines experimental animation and sound to explore how identity development is informed (and sometimes controlled) by psychiatry's relationship with capitalism and it's broader political objectives. The video focuses on three themes, the history of psychiatry and its relationship to capitalism/consumerism in North America, the MKULTRA experiments in Montreal during the Cold War, and how the self-help movement depoliticized leftist movements after 1960's. The animation uses innovative combinations of stop-motion, graphic animation, cutout and hand-drawn processes.
 Created in collaboration with Rae Spoon, with support from CALQ, Studio XX and GIV.
 http://www.studioxx.org/en/node/2514
Nothing ever happened (2009) is an experimental animation that illustrates a surreal internal landscape occupied by child creatures and animal imagery. A child goes off to school and must reevaluate everything they have known. Fish, dogs, cats & birds interact with fish tanks, living room furniture, poppies, school busses and the first artificial heart technology. They morph and combine with one another, changing masks and creating new creatures in the strangely internalized and claustrophobic environment that they inhabit. Relationships between the objects, animals and sound create a commentary on seeing and invisibility as experienced by the body. The menacing feeling of animalistic predators and prey seeps into every scene, as odd sexual metaphors manifest with alien-like qualities.  Everything points against one of the narrative claims that, "Nothing ever happened."
I didn't know what to say to him (2007), made in collaboration with sound artist Steven Matthew Brown, comes in response to the official Report of the European Committee for the Prevention of Torture and Inhuman or Degrading Treatment or Punishment (CPT) on the conditions at Weimar/Ichtershausen Juvenile Prison in Germany.
The animation uses excerpts from the official CPT report in combination with the fictional story of a psychologist trying to relate to an inmate's sense of helplessness and abuse in the prison, while attempting also to negotiate his own sense of helplessness. My visuals place this story within a cobblestone and pastel backdrop showing the city of Weimar's "brand name" identification with Goethe and Schiller, tourism, safety and normalcy.
Together, the visual and audio components of I didn't know give a strangely entertaining and also distopic view of Weimar, cutting below the surface to show a hidden place of systematic violence and chronic neglect at Weimar/Ichtershausen. 
 www.jugendknast.blogspot.com
http://www.youtube.com/watch?v=M5p3kG02_kg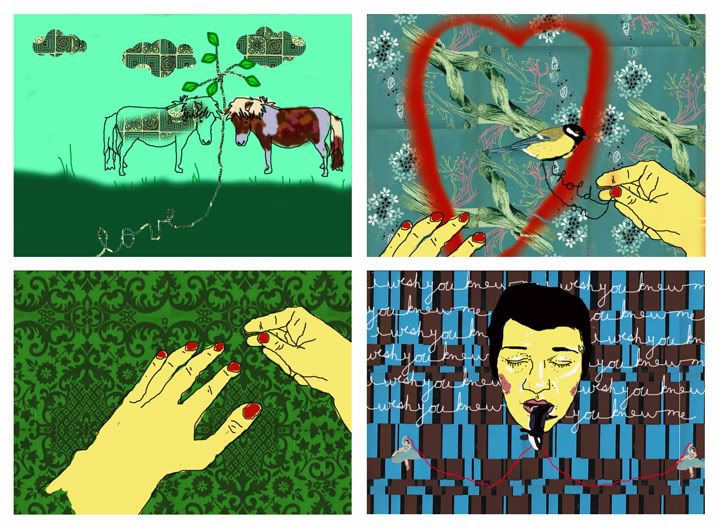 I wish you knew me  (2007) makes use of symbolism from Canadian wildlife, antique wallpapers, and badly drawn hands and faces to create a visual poem about hiding inside oneself. Accompanied by Ohbijou's song Misty Eyes.
http://www.youtube.com/watch?v=omVjMkOn3PY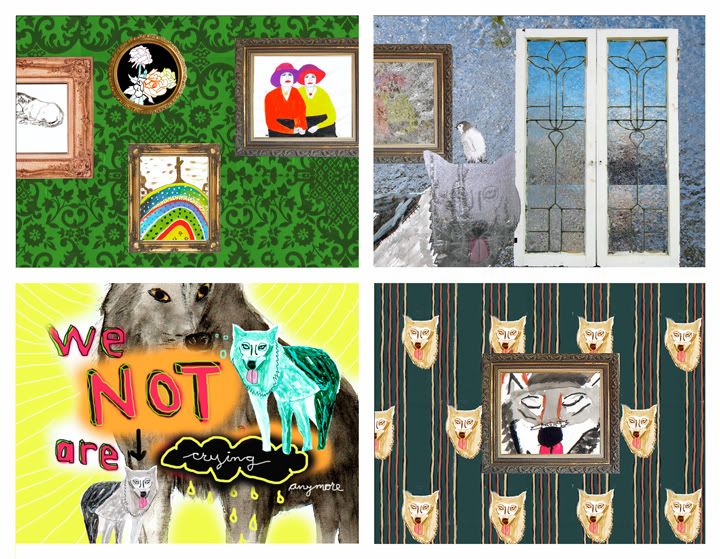 We become our own wolves (2007)
During the summer of 2007, while on a residency with Modern Fuel Artist Run Centre/ The Artel, I worked on an art project with the women in The Isabel MacNeil House (the only low security federal prison for women in Canada). For three weeks I met with the women three times a week to paint and draw with them with the intention to eventually create an animation with their artworks (no cameras are allowed in the facility). The final project was put to the music of "We become our own wolves" by Rae Spoon. Upon completion, there was a screening for the women and each received a copy of the DVD.
http://www.youtube.com/watch?v=NRHYq_tIjK8
Animation channel (begun as part of my YouTube project http://jessicamaccormackrmack.tumblr.com/post/591312268/youtube-project): http://www.youtube.com/user/maybechildhood